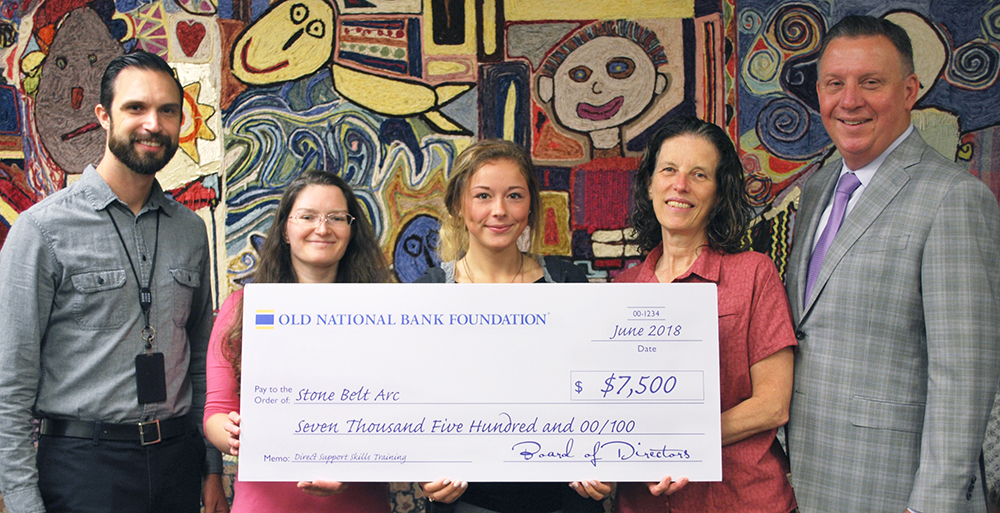 Accepting the Old National Bank Foundation Workforce Development Grant from Scott Shishman (far right) is Stone Belt Arc development associate Adam Hamel, direct support professionals Michelle Stockey and Sidney Thomas, and CEO Leslie Green.
Old National Bank Foundation recently awarded a $7,500 Workforce Development Grant to Stone Belt Arc. The grant will provide online training for new and current staff members to build financial and household management skills. These soft skills are directly transferable from employees to the people they support and will help individuals with disabilities exert more control over their home life and manage their own resources.

Established in 1959, Stone Belt Arc is one of the oldest and largest service providers for individuals with developmental disabilities in south-central Indiana. The agency prepares, empowers and supports individuals with developmental disabilities to fully participate in the life of the community. Stone Belt's tradition of excellence and leadership is founded on the belief that everyone deserves dignity, self-worth and the right to self-determination. Services include: residential supports, community employment, job training, lifelong learning, arts exploration, and mental health services, including psychiatry, therapy, skills development, and behavior management. More information is available at www.stonebelt.org.