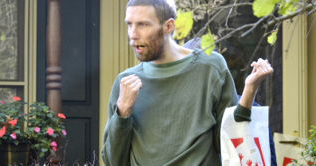 Stone Belt offers individuals with developmental disabilities professionalized volunteer opportunities through its Hand in Hand program.
Clients and staff collect non-perishable food donations from neighborhoods and deliver them to area food banks. Donors place their contributions in special Hand in Hand bags outside their homes. Stone Belt leaves empty bags with reminder cards that list the next date for pick up.
This project creates an opportunity for individuals with disabilities to demonstrate their contributions to community building through meaningful volunteer employment. The level of awareness and commitment to social needs in Bloomington is growing exponentially through participant involvement. Stone Belt has received grants from the Community Foundation of Bloomington & Monroe County, the Auntie Anne's Pretzel Company Foundation, and the Office Depot Foundation to support and expand the Hand in Hand project. Additional expenses are funded through the Stone Belt operating budget, and through generous and visionary individual donors.
Contact This email address is being protected from spambots. You need JavaScript enabled to view it. to ask if your neighborhood is involved or how it can be added to the list!