Articles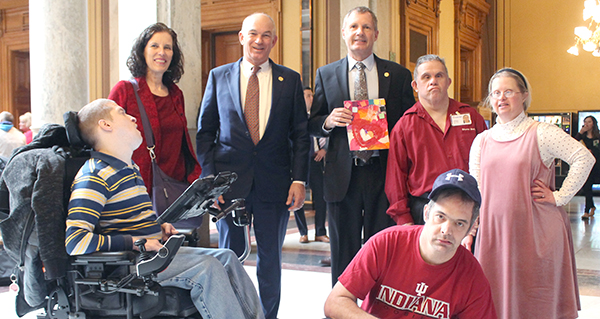 By Leslie Green
Chief Executive Officer
I was recently asked a question that caused me to reflect upon why Stone Belt is a good place to work. In fact, the question was: "Why work for Stone Belt over other employers?" This was an easy question to answer from my perspective. Here are several examples of why I am proud of our organization and feel privileged to work here:
·         We have an excellent reputation. Hardly a week goes by that I don't get positive comments from people in the community or hear a story from a family member who is so thankful for the supports we provide to their loved one.
·          We truly believe in our Mission and Principles of Service. Our values for inclusion, respect, and increasing the quality of life for everyone we serve are foremost in our planning and operations.
·          We have a committed group of senior leaders, most who have worked for Stone Belt for a decade or more, that are fully engaged in our work, proud of what we do, and consider the impact of their decisions on clients and staff alike. Equally, we have an amazing group of board members, who are community leaders that provide thoughtful, informed governance to our organization. They represent us well throughout the community. Both of these groups operate with a high degree of integrity and truly keep the Stone Belt mission as their focus.
·         We have a commitment to quality. We do not have a profit motive, so we can put more into the quality of services that those companies that must return earnings to their owners or shareholders. With this in mind, we provide extra layers of support to clients. Nursing is one example. It is difficult in the current funding streams to afford nursing, but we use United Way dollars and other undesignated funds to make sure clients have medical supports and that staff have qualified medical professionals to whom they can turn for client issues. This type of support, among other things, has allowed us to keep aging clients in our residential programs whenever possible instead of transferring them to a nursing facility to live out their last days.
·         We have innovative programs. Milestones Services, Employment Services—such as Project SEARCH—the arts program, volunteer opportunities—such as Hand-in-Hand—and Family Supports are all good examples of how Stone Belt has invested in and succeeded in offering some of the best supports that can be found in our service area.
·         We are in demand. The occupancy of our group homes is usually at or near capacity. Our Supported Living program has more referrals than we can accommodate. We have increased the Lifelong Learning program by more than 120 people in the past three years. People want our services. Often they are seeking our programs because of their dissatisfaction with other providers. Sometimes they hear about us and want us first over anyone else. We have relatively few that leave our services.
·         We're part of a bigger picture: Our Manufacturing program offers people the opportunity to learn work skills while providing valuable medical products to people all over the world, and, recently, we produced belts that helped in military efforts to support democracy in the Middle East.
·         We have good quality assurance practices. The supervision and monitoring, training, and program supports allow everyone to offer the safest and most respectful programs possible. We investigate serious incidents, provide training or other corrective measures, and sometimes will let someone go if they have been a danger or a risk to clients.
·         We work to stay competitive with other providers in our compensation program. Every time we can, we have raised salaries. We offer very generous PTO benefits. We worked to keep our other benefits as attractive as we can within our funding structures. We have improved our benefits programs over the past four years.
·         We are leaders in advocacy efforts to get more funding. Board members, self-advocates, staff, and I regularly visit the Indiana State House to build support from legislators for issues critical to our success. We hold advocacy and educational events to encourage others to reach out to legislators and to increase advocacy efforts at the state and national level. We lead others in our industry in these efforts. Our number one issue for the past eight years has been to increase funding so we can increase salaries. We have been successful and we will keep pushing so we can come closer to closing the gap in the workforce crisis.
So as you can tell, I think there are many good reasons to work for Stone Belt. I know others are also very proud of the work we do. Although turnover is an issue, many of those who have stayed with us are deeply committed. We all make the greatest difference for the people we support. I can't imagine working any other place than Stone Belt. If you are interested in learning more or getting a close-hand look at what we do, I'll be happy to meet with you.
Leslie Green, who has been with Stone Belt since 1979, can be reached via email at This email address is being protected from spambots. You need JavaScript enabled to view it..