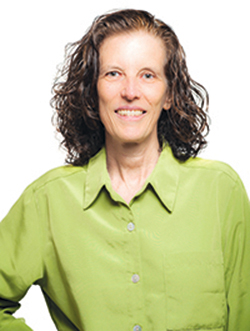 By Leslie Green
Chief Executive Officer
Every March, Stone Belt Arc joins The Arc of Indiana and other disability advocacy groups in recognizing Developmental Disabilities Awareness Month. This designation was created in 1987 by President Ronald Reagan to "increase public awareness of the needs and potential of Americans with disabilities." 
This year, Stone Belt is also celebrating its 60th anniversary. Starting in 1959 as a school for children with disabilities in Bloomington, Stone Belt has grown to support more than 1,300 people, employ 550 staff, and offer a wide array of services that prepare, empower and support people with disabilities to fully participate in the life of the community. With locations in Bloomington, Bedford and Columbus, Stone Belt supports individuals living in neighborhoods, working in businesses throughout the community, receiving work training to move them toward employment, developing independence, volunteering to meet community needs, and receiving medical and behavior supports through our Milestones program.
Sixty years ago, nine families formed the Stone Belt Council, later renamed Stone Belt Arc. As part of The Arc of Indiana and The Arc of the United States, we advocate for and with people with developmental disabilities and their families so each person can fully realize their dreams and potential.  Parents of children with disabilities were often told to send them to an institution away from their families and communities. Throughout the 1980s and 1990s, Stone Belt moved many institutionalized individuals back to Monroe and Lawrence counties. During that same time, we provided opportunities for integrative, competitive employment. Supported living was added for people in individualized residential arrangements. Milestones Clinical and Health Resources was opened to meet the needs of people still living with families. Throughout our history, we have provided in-house work programs that enable participants to build skills while doing meaningful work. Our Lifelong Learning programs have supported growing independence through classroom and community-based activities, while the Art Studio supports about 50 artists to make and sell beautiful and inspiring art. So many community members have seen and bought these amazing creations.
Stone Belt services are funded primarily by Medicaid, a state and federal partnership that provides health care and long-term support services to eligible children and adults. This funding also provides the opportunity for people with developmental disabilities to receive community-based services. However, Stone Belt need local support—such as county funding, United Way, foundations and individual contributions—to offer a higher quality of services and improved quality of life.
We gratefully thank all who provide this much needed support. However, when Medicaid funds are reduced or are not increased to keep up with inflation, great pressure is put on our operations. The biggest example of this is the workforce shortage due to lower rate reimbursements that don't permit competitive wages to attract and keep direct support professionals. These employees provide the day-to-day direct care to those we serve. We hope you will join us in urging your state legislators to support increased appropriations to help us address this issue.
Stone Belt's mission states that we do our work in partnership with the community. We take this opportunity to thank and appreciate the many individuals, groups, businesses and organizations with which we have such meaningful partnerships. All of you make the greatest difference in the lives of the people with disabilities we support.
We hope you'll join our Birthday Party and Celebration on June 15 from 11 a.m. to 3 p.m. at our main facility at 2815 East Tenth Street in Bloomington. Much fun and merriment is planned, and we would love to have you as a part of it.